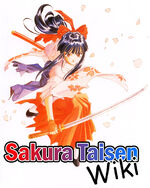 Sakura Taisen Wiki
a collaborative database that anyone can edit.

The Sakura Taisen Series
Main Games

Spin-offs

Novels and manga

Main series prequels and side stories

Compilations and collections

Film and television
Characters
Teikoku Kagekidan

(Imperial Assault Force)

Hanagumi (Flower Division)

Kazegumi (Wind Division)

Tsukigumi (Moon Division)

Yumegumi (Dream Division)

Baragumi (Rose Division)

Otomegumi (Maiden Division)

Council of Elders

Command & Support

Paris Kagekidan

(Paris Assault Force)

Hanagumi (Flower Division)

Command & Support

New York Kagekidan

(New York Combat Revue)

Hoshigumi (Star Division)

Nijigumi (Rainbow Division)

Command & Support
Antagonists

Sakura Wars TV series

Sakura Wars 1

Black Demon Society


Sakura Wars 2

Sakura Wars 3

Sakura Wars 4

Sixth Heaven


Sakura Wars 5



News
Helping out
Not sure where to start?
Improving articles
Adding content
Community
|}
Ad blocker interference detected!
Wikia is a free-to-use site that makes money from advertising. We have a modified experience for viewers using ad blockers

Wikia is not accessible if you've made further modifications. Remove the custom ad blocker rule(s) and the page will load as expected.