This article is a stub, you can help the Sakura Taisen wiki by improving it!
(Stub templates just show off a wiki's flaws. Instead of using a stub template, make the page better!)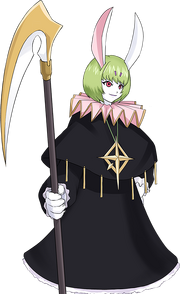 Ranmaru (蘭丸) is a character from Sakura Taisen IV: Koi Seyo, Otome. This cruel and malicious rabbit-like person of unknown gender is a vassal of Oda Nobunaga. This character reappears in Sakura Wars V: So Long, My Love piloting enemy machines against New York Combat Revue's Star Division.
Ranmaru also appears in Project ✕ Zone 2.
Ad blocker interference detected!
Wikia is a free-to-use site that makes money from advertising. We have a modified experience for viewers using ad blockers

Wikia is not accessible if you've made further modifications. Remove the custom ad blocker rule(s) and the page will load as expected.